Home -> Headboards -> Headboards Buying Guide


Headboards Buying Guide
Upholstered Headboard Buying Guide

Headboards with fabric and padding come in all shapes and sizes, also known as upholstered headboards. If you're wondering whether or not an upholstered headboard could be right for your décor or lifestyle, there are a few general styles to be aware of. Available fabrics come in black, brown, espresso, oak, white headboards, and multiple vivid or pastel colors. Get the size you need ranging from twin or full up to queen, king sized upholstered headboards, or even California king.
Fabric headboards that feature dimples, with or without buttons, are referred to as tufted.
Some upholstered headboards are made with real leather, in tufted and flat-panel designs.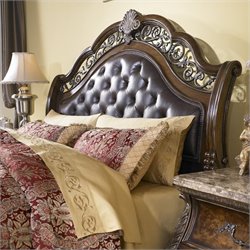 Colors, patterns, and fun shapes distinguish kids' models of upholstered headboards.
Regardless of the style you choose, upholstered headboards can be a noticeable décor statement in any room. Although you'll find some subtle designs with a minimalist influence, an upholstered headboard usually adds a feeling of warmth and coziness to a room. If you like the look of a padded, plush, opulent bed, the headboard styles mentioned above may be a great fit for you.
Remember that the upholstered layer doesn't replace pillows either. The added padding may certainly enhance comfort for anyone who likes to read or watch television in bed, but you won't find many upholstered headboards with a thick, soft layer of literally pillow-like padding.
To find a combination of both style variety and budget-friendly prices in upholstered headboards, browse the Skyline Furniture Headboards, available here at More Headboards. Their tufted, leather, and kids headboards can work with both modern and traditional interior styles, most available at very affordable prices. Other brands at More Headboards include American Drew, Home Styles, Lea, Lexington, and Pulaski.